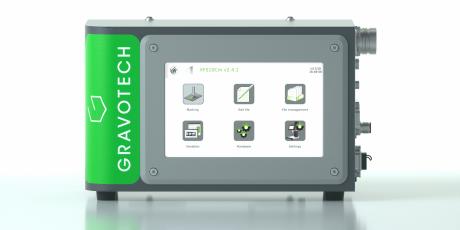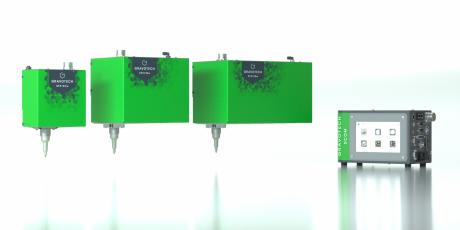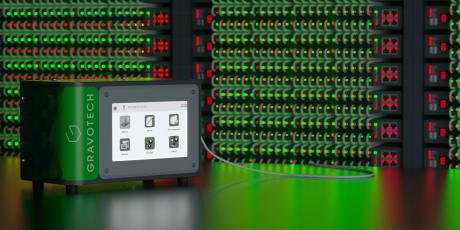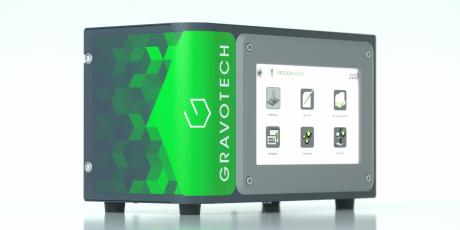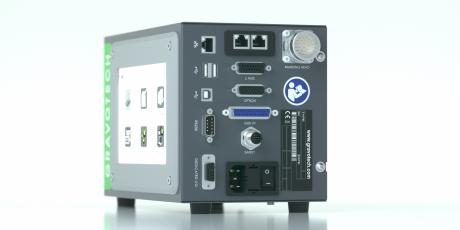 XCOM controller, connected touch-screen controller drives our entire dot Peen/scribing range.
DOT PEEN AND SCRIBING CONTROLLER
XCOM is the solution to pilot dot-peen and scribing machines and to control their integration on production lines. Connected to the main 4.0 industrial environments, XCOM is the most communicative and autonomous control unit on the market.
Simplified user experience
The XCOM controller looks like a tactile tablet (7 "/ 18 cm) and is just as easy to use. From its tactile screen, the operator can quickly set up, edit, program templates, and launch markings. No PC required.
 
Hyperconnected XCOM
The ideal controller for industry 4.0. Just choose your preferred field bus (Profinet, Ethernet IP or EtherCAT) to integrate the XCOM to your process and enjoy a reduced commissioning time and full interoperability on your production line, whichever the PLC and devices used.
 
Empower your data
The data collection and storage feature in the XCOM simplifies the traceability of your products: generate history files, creates dashboards to monitor machines, track your productivity, and set up preventive maintenance. This controller is a powerful tool that will save time, money, and headaches!
Technical Specifications
Compatibility
XCOM controller drives the entire Gravotech dot peen and scribing range

Discreet integration
With its embedded software T08 and large touchscreen

XCOM is the smallest and lightest controller on the market for usage without PC

High level of safety
The safety module provides performance Level d (PL d)

Unlimited Marking possibilities
Text, variables, dates, serial numbers, 2D codes, logos, etc.
Wide choice of Fonts: +10 fonts in dot by dot or continuous stroke:
Unicode support, personalized font on demand.
Highest Communication
Available field buses as an option: Profinet - Ethernet IP.
As standard: Ethernet TCP/IP - RS232 - USB – Dedicated I/O (Start, stop, )
Programmable I/O (8 inputs / 4 outputs)

 
General
Technologies
XCOMp: pneumatic
XCOMm: electromagnetic
Software
Integrated traceability software with colour touchscreen for full access to all functionalities in standard.
Key functions
Process automation
Industrial Ethernet Networks
Safety Performance Level d
Embedded intelligence
Autonomous
Programmable by PLC
No PC required
Industry 4.0 ready
| | XCOM p | XCOM m |
| --- | --- | --- |
| Model | | |
| Technology | | |
| Número do eixo | | |
| Dimensions (L x W x H) | 287 mm (11.3 in) x 170 mm (6.692 in) x 152 (5.984 in) | 287 mm (11.3 in) x 170 mm (6.692 in) x 152 (5.984 in) |
| Machine weight | | |
| Communication Interfaces | RJ45, USB(x2), RS232, 8I/4O, Process IO | RJ45, USB(x2), RS232, 8I/4O, Process IO |
| Fieldbus (option) | | |
| Embedded Fonts (Unicode) | | |
| Display | | |
| Operating Temperature | | |
| Language | | |
| Marking Specifications | '40 Gravotech fonts, Possible to convert User & TTF fonts, Datamatrix, QR Codes, Logos. Vectorial and dot by dot marking | '40 Gravotech fonts, Possible to convert User & TTF fonts, Datamatrix, QR Codes, Logos. Vectorial (with DDC) and dot by dot marking (with Multidot) |
| Safety Performance Level (option) | | |
| Power consumption rate | | |
| Input voltage | | |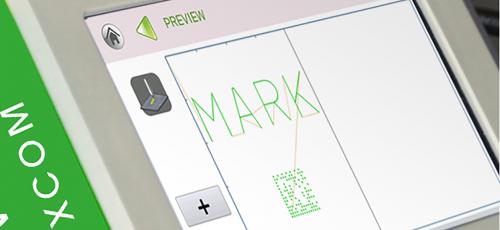 Easy to use and powerful, the XCOM simplifies your marking workflow, making it manageable for any operator: user-friendly interface and navigation in the menus, visualization, marking simulation, easy management of parameters and simple launch of the marking. You can identify your parts (text, serial numbers, logo), generate unique codes (Datamatrix, QR codes, UID, GS1) and configure your variables, counters and date codes: all of this with one controller.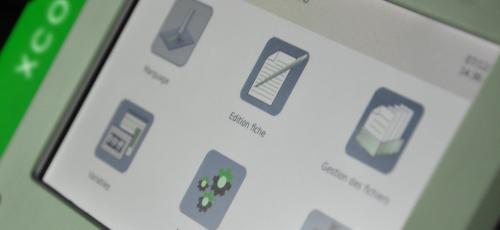 The XCOM controller is ultra-resistant and has been designed to fit into any environment, even the most demanding ones. Its waterproof touch screen is made of reinforced glass and its casing is highly resistant to shocks.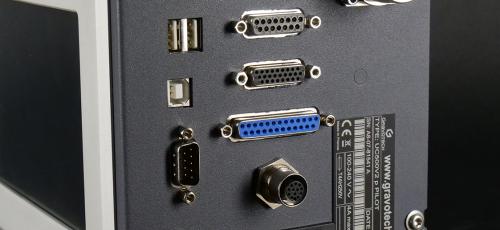 The safety of our machines and the protection of your data are our top priority. XCOM can connect to most field buses and can be controlled by a PLC, to ensure the reliability of the data exchange. This controller is also equipped with a safety module, an extra-security when integrated on a production line.
DOT PEEN
PLASTICS
ABS​​
PA
PC
PE, BET
PMMA, Acrylic
POM - PBT
PP
METAL
Aluminum
Anodized Aluminum​​
Brass​​
Carbide
Coated metal
Copper
Gold, silver, nickel, platinum
Stainless steel​​
Steel
Titanium
= Engraving / Deep marking